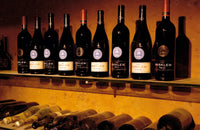 Marklew Family Wines
In 1970, Lyn and Dudley Marklew bought the scenic 45-hectare farm De Goede Sukses in the prestigious wine terroir of Simonsberg Ward, Stellenbosch. Dudley replanted the vineyards to the noble varieties, including Cabernet Sauvignon, Merlot, Pinotage, Shiraz, Cabernet Franc, Chardonnay and Sauvignon Blanc and sold the grapes to KWV and other co-operatives. Cultivated in dry land conditions, the vineyards are planted in remarkable deep red soil in what is arguably the premier wine producing area of South Africa.
In 2001, Lyn and Dudley retired to Hermanus and their children took over the farm. Bill, who graduated from University of Stellenbosch with honours in Finance and Economics overseeing viticulture and finance, and Haidee fulfilling her childhood dream to make and market the wine on the farm. Today, Marklew Family Wines produces award-winning wines that embody traditional viticulture values and winemaking passion from both generations.
Learn More
"The quality terroir and fantastic family make my job as winemaker all the more enjoyable. I'm proud to produce the handcrafted, high quality wines that are the hallmark of Marklew Family Wines."

Dirk Tredoux - Winemaker
"Personal attention is our priority. From the vineyard to the wine making and onto the wine-tasting experience, together we ensure that no detail is overlooked."

Haidee Marklew
"The greatest wines are those shared by family and friends. We welcome you to be part of the Marklew Family, where we honour traditional viticulture and winemaking, while keeping an eye on the future."

Bill Marklew
Location
Marklew Family Wines
OPEN BY APPOINTMENT ONLY–We look forward to welcoming you for a private wine tasting and memorable tour of our unique boutique gravitational cellar.
Call Haidee Marklew:  +27 (0)83 659 9955
Tel: +27 (0)21 884 4411 
Fax: +27 (0)21 884 4412 
Email: wine@marklew.co.za 
Physical Address: 
De Goede Sukses,
Klapmuts Road (R44),
Muldersvlei
Facing Covid-19
The Marklew wine shop is open for wine sales. We have taken the utmost care to ensure that the necessary measures are in place to prevent the spread of Covid-19. When visiting our farm wear a mask and sanitise. (For any enquiries please call Haidee Marklew on 0836599955)
For the latest updates, please visit www.who.int for more information about Covid-19.